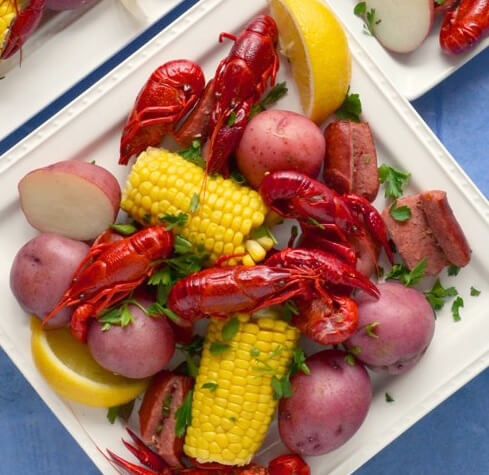 Premiere Inc. - The Casing Running Experts
Eating Right In the Oilfield • Premiere Inc.
When you're in the oilfields for 8- or even 12-hour days, you're not going to be able to swing through your local McDonald's for a bite.
Not that you should do that anyway!
For long work days requiring lots of physical activity, you need to eat healthy to give you the stamina to perform your job. Here, we've compiled five ideas from oilfield workers and their spouses about what to bring.
Crockpot Pot Roast
A slow cooker can be a real friend to oil workers who can throw together a few ingredients, but then can't check in on the meal for several hours. A hearty, healthy, and simple stew can be made this way. Combine a 2-pound chuck roast, a sweet onion, 1 pound of carrots, 1 pound of potatoes, and a packet of Kraft New England Pot Roast mix in a large crockpot. Once your day is over, the pot roast will be ready to eat.
Dad's Hamburger Veggie Soup
Another meal that doesn't require a lot of time, room, or supplies to make is a hearty soup. Using mostly canned ingredients like diced tomatoes and cannellini beans and hearty fresh veggies like cabbage, this hamburger soup can feed and please a crowd. Plus, the only supplies needed are a big soup pot and, if you're really roughing it, only a couple of spoons.
Dashboard Foil Bake
Using foil and the heat from the sun can get you a ready-to-eat meal with limited tools. To start, slice a potato and onion and layer them on a thick piece of tin foil. Next, crack an egg over the top. Close the tin foil around the food, and then leave it in the dashboard, in the sun, for several hours. The creator of this recipe put uncooked bacon on the top, but we would recommend cooking the bacon first. Only try this one on sunny days!
Quick-bite Snacks
Rather than stocking up on convenience store junk food, grab these quick- bite options on days when you don't get a meal break:
All types of nuts
Single-serving baby carrots, broccoli, and cherry tomatoes.
Beef jerky.
Hard-boiled eggs.
Premade smoothies, like Naked Juice or Odwalla.
Precooked chicken or steak in a zippered plastic bag.
Crawfish Boil
If you've got a little downtime between shifts on the rig, you'll want to take advantage of the deliciousness of Southern seafood. A good ole Southern crawfish boil combines crawfish, corn, andouille sausage, and red potatoes, and tops them with lemon, garlic, and hot sauce for a satisfying meal. Learn more about how to make this easy crawfish boil.
Premiere, Inc. has been developing the highest standards for innovative tubing and casing equipment since 1980. Give us a call today, and we'll help you upgrade your oilfield tools and services.